Technically it's winter, but damn it's hot in the south. Instead of being enrobed in a goose down cocoon every night I've been sleeping with the windows wide open. Just kidding, I'm too afraid that my cats will jump onto my roof to open the windows but you get the idea. Instead we are experiencing something more akin to a spring renewal, which I guess is appropriate for New Year's resolutions. Lately I've been inspired by Advanced Style, the fashion blog with a focus on exquisitely dressed women in their 60s-100s. I'm having a "to hell with everyone else" moment, just wearing whatever I want and not caring about what others think. It's quite liberating, and I highly recommend it.
To help you get a jump start on jumping the "I dress for myself" ship I rounded up a few recent favorites that I've stumbled upon.
I'm deathly afraid of the eye doctor, so getting new glasses is a real ordeal. In 2011 I broke down and had an eye exam and lived to tell about it, so this year I might do it again. These Oliver Peoples frames at St. Charles Vision would be a great second pair of frames for me, that is if I get the guts to go.
I can't help but notice a lot of art deco designs, especially in jewelry for next spring. Why not get a jump start on the trend with this Lulu Frost for J. Crew art deco bangle. I love how classy this design is, especially in white. Not that I've ever claimed to be a classy broad, but still I'd wear the heck out of this bangle.


Oversized day clutches are one trend that gained momentum last spring and are still going strong. This ASOS portfolio clutch is super sleek, and the blush color keeps it feminine while the gold metal hardware keeps it from being too twee.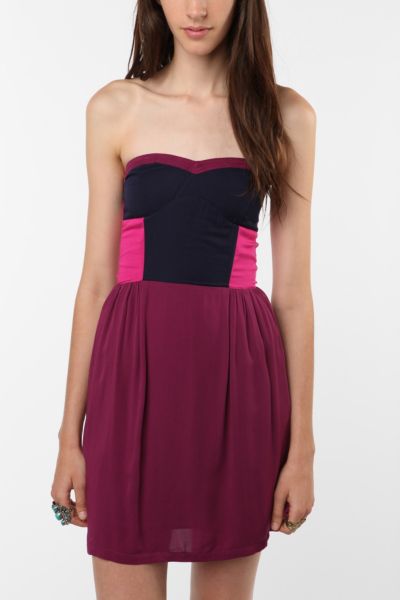 I definitely know my favorite dress when I see it, and this color block dress from Urban Outfitters is certainly my dress shape of choice. A strapless, fitted bodice with a pleated and slightly flared skirt? Yup, that's all me baby. When you've got a good thing going, why mess it up? Find what's flattering and roll with it, make it your signature look!
I always have trouble finding my iPhone in the bowels of my purse. This leopard print Rebecca Minkoff phone cover lends a fun factor and is bright enough to spot from a mile away, or at least an arms length.
Committed to giving yourself a refresh for 2012? I'm giving away a free closet overhaul session to one lucky lady. Read the giveaway post here to learn how to win but hurry, you only have until Friday the 13th to enter.
Twitter: slowsouthstyle Facebook: Slow Southern Style